Oct. 21, 2014 2:41 p.m. - Updated: 3:46 p.m.
Idaho Gov. Butch Otter announced today that he's filing a petition with the 9th Circuit U.S. Court of Appeals for an en banc re-hearing of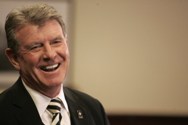 Idaho's same-sex marriage case. "I will continue defending Idahoans' self-determination and the will of Idaho voters who decided that traditional marriage is a core principle of our society," Otter said in a statement; click below for his full statement. He said his office will file the petition later today. An en banc review at the 9th Circuit, because the circuit is so large, would mean that a larger 11-judge panel would re-hear the case, after a three-judge panel made the decision earlier. In smaller circuits, an en banc review is a rehearing by the full court/Betsy Russell, Eye on Boise. More here.
Thoughts?
9 comments ›